I am very glad th

at I can now to you present my first project, created by me, which is named Bararan. It is English - Armenian and Russian Armenian, Phrase -Book (Eng-Arm) dictionary, in which is accordingly 7720, 9078 and 792 words, but you can on a course of activity add all new words, and also to delete words from the dictionary
The idea such creation of the program was born that all mine familiar which knew me asked when there is at last Armenian interpreter and I have decided before as will the program the Armenian interpreter write here such program. I think it will be useful to all on activity, on study and me too, as I know the English language not so well, and this the program by the way and I shall use it more often and it will is always under a hand.
Probably many from you will tell and why I named the program Bararan, it was possible to decide not a more original name, but this name I do not know why, but it always was on my mind and I always repeated this name and it very beautifully sounds Bararan. But if you have other approaching names to this program tell I necessarily I shall take into account and if it will beautiful then the program and I shall name.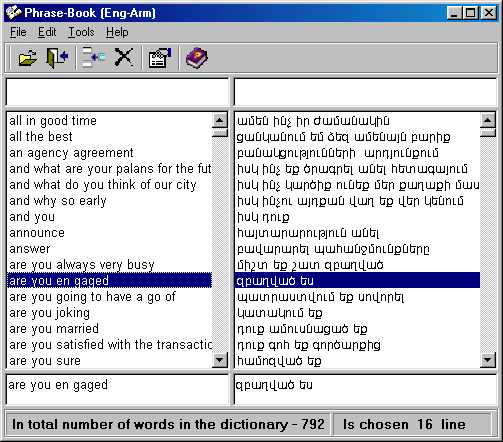 I of the beginnings above creation of the program since January 1 2002 also have finished its January 25, but honourly to be recognized it very much as transactions to me it was possible. More difficult has appeared when all should be united these separate by me creation of a capability in one project. But word to the god at To support ours the sirs all I could finish more to exchange this program and all remaining difficulties have remained behind. Many ask which I could not decide god has given me these problems to decide and very easy ways, and I want to thank to it praise God.
Here again it was possible to repeat words of firm Microsoft « internal world the development of the program how many was not difficult, we shall try that it was easy in use for our users », and I have tried in this program to make it more flexible, easy, convenient in use.
Thinking it is the program will to you be useful and please if there will be program errors, or a wish пgive to me by mail, I the remark with pleasure shall take part.
Generally on the plans future I do not love to speak because all that I speak beforehand do not come true, I have a little bit unfinished programs and I shall finish these programs, to write the books mine and certainly I shall improve the program Bararan. Generally it would be very desirable to write the program the explanatory and sound dictionary, but likely I shall begin to work above the program, which would like when be not write, about it there will be a speech hardly below.
The program Bararan you can Download pressing on the reference Download which is hardly below, and how to make installation of the program read section « As has made installation of the program ». A thank you by all.
Best regards Grigor Sahakyan http://www.armtrans.h1.ru E -mail armbararan@yahoo.com or gogor@freenet.am

Download (File size 780 Kb)