Tracklist For The New Album
18.10.03 - Become known track list of the new album. Certainly, this else so to speak "damp" track list.
01. Did My Time (4:02)
02. Alive (3:54)
03. Everything I Know (3:58)
04. Forever (4:11)
05. To Dwell On The Things (4:43)
06. Gone (5:01)
07. Right Now (3:38)
08. Nothing But Hate (5:26)
09. Questions (3:18)
10. Stagnant (4:40)
11. Waiting (2:56)
12. Around and About (2:01)
13. A Memory To Myself (4:08)
14. The Road (5:14)
15. Maybe Me (3:28)
16. When Will I Be Happy (4:53)
17. One - (bonus track)
--------


News, Photos

10.09.03 - Current tour of Korn is sponsored by Jill Kelly Productions, Inc. It's interesting, that this company has'nt been so long in musical business, but it is one of the leading companies in porno-business. Such mix of heavy music and pornos-entertainments - the example of new advertising strategy JKP. Here are the pictures of Korn tour bus.
--------


"Take A Look In The Mirror"
09.08.03 - What became known, Korn have declared that new, sixth album of the group nearly will exactly get the name "Take a Look in The Mirror". According to interview, which gave Fieldy radio "The Blitz 99.7 FM", in new album will beside 14-15 songs, from which 100 phuds will "Did My Time" and cover Metallica "One".
"Our new album will be a return to old good tradition. Jonatan adds last 5 songs to album, after return from his trips (Devis collected the material, in trip on staff), parallel we continue to emerge on Ozzfest '2003. The Album must leave to November. Already completely ready 10 songs. This album we have done themselves, without some stranger producers" - has said Fieldy.
On question, will album as a whole looks like "Did my Time", he has said that will be much heavier.
--------


"Did My Time" Remix
05.08.03 - The single DMT released in U.S.A. The CD also contains DMT's album version, DMT (Grayedout Mix) and One (live on MTV: icon). On the cover of CD is written that the sixth album will release on the October of this year.
--------


Deftones Keyboardist Defends Singer's Comments About Korn And Metallica
31.07.03 - DEFTONES sampler/keyboardist Frank Delgado has defended singer Chino Moreno for his barbed comments he's made in the press about KORN and his Summer Sanitarium tourmates METALLICA, LIMP BIZKIT and LINKIN PARK, saying that a lot of the attention is a function of the press taking Moreno's quotes out of context. "I think they to sensationalize a lot of stuff," Delgado told Launch. "They're trying to sell magazines just like we're trying to sell records, but catch anyone on a bad day you're bound to hear something that no one's going to like, but you can't be afraid to speak your mind, either. I think if you go back and you read those quotes, he really didn't say anything mean. You know what I mean. As a fan of music he's speaking his mind on what he thinks. And besides, whether you're a chef or a plumber, you have to think you're the best chef or the best plumber. I think he brought it up to [ METALLICA frontman James ] Hetfield, actually and I would have said the same thing. You have to think you are the best and you have to have that attitude."


Jonathan Davis composed song for new film with name "Wonderland". The film is about pornostar of 70's, John'e Holmes'e, whose role will act Val Kilmer.
--------


"Did My Time" video
19.07.03 - Download D.M.T. video 39.8 mb:
http://www.videopimp.org or http://www.korn.cz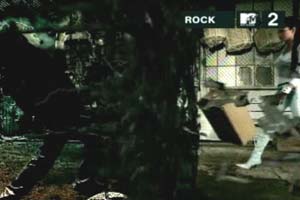 You can also see Anjelina Jolie in the video.
--------


"Did My Time" promo
06.07.03 - Release of the single "Did My Time" has signed in July 22. The CD will also include the song "One". The cover of the CD looks like these:











Ozzfest & Off-fest
Between the plays in Ozzfest, Korn, Marilyn Manson, Disturbed and Chevelle decided to make "Off-fest" concerts, but they won't play in same place and in same time. Disturbed and Chivelle will play together in 6 concerts, and Korn will play with both of them and only with Chivelle. Manson will play 7 times, but without anyone's support, alone.

"Off-fest"-dates of Korn:


6.30

- Lubbock, TX @ Canyon Amphitheater (w/ Chevelle)


7.7

- Las Vegas, NV @ Rain in the Desert at the Palms


7.11

- Portland, OR @ Columbia Meadows (w/ Disturbed, Chevelle ? Trapt)


7.16

- Oklahoma, City, OK @ Zoo Amphitheatre


7.26

- Evansville, IN @ Roberts Stadium


8.8

- Wantagh, NY @ Jones Beach (w/ Disturbed, Chevelle ? Revolution Smile)


8.16

- London, ON @ Downtown London


8.21

- Virginia Beach, VA @ Verizon Wireless Amphitheatre


8.27

- Orlando, FL @ Hard Rock Live

In 28 June Korn played in the first concert in Ozzfest. Tracklist was the following:



Blind
Twist
Falling Away From Me
A.D.I.D.A.S.
Got The Life
One
Freak On A Leash
Did My Time
Here To Stay
Shoots And Ladders
Faget
Somebody Someone
--------


Johnatan about "Did My Time"
03.07.03 - In last interview on KoRn Kamp, Johnatan has said that "Did my time" is dedicated to thing, which always went to cut in his lifes; he wants to hear, when all this shit is stops. Also he tells that in video on this canto will are shown guys, residing in sort of vacuum world. Davis speaks that they will not form the big labour to choose the stage manager of the future clip, Sean has well worked on video "Alone I Break", and, similars, deserved the big confidence beside groups.


The new album of Jonathan's brother


Johnatan has told that he likes new album of the group of the younger brother, frontman of the group Adema, Marky Chavez'a. Here is that has said the Marks:
"He loves this. My brother (Jonathan Davis), usually remained cold to music work, which I torment. And now me was much pleasantly hear that senior brother to the all has praised my group. Has Said that type beside us steep music, texts and all such..." Reliz new album Adema appears for August 18 in USA.
--------



John & Chino
27.06.03 - Korn frontman Jonathan Davis has reacted to recent comments made by Deftones singer Chino Moreno in US magazine Revolver. Moreno said: "As Korn go on, it's the same things – bad childhoods and mean moms. It gets too old after a while. How old is Jonathan? Thirty? How long has it been since he lived with his parents?"
In an exclusive interview with Kerrang!, Davis said: "Obviously, Chino hasn't listened to the words on the rest of the other albums because they're nothing about my parents or my childhood... I haven't talked to him because that's some straight f**ked up shit that he said. When we first came out it was cool and we were homies. Then as we came up they became bitter because we were getting more attention or some shit."
--------


"LEFT OUT"
24.06.03 - At last we know the name of the sixth album of Korn: "Left Out". It contains 10 tracks. This photos are the cover of album's CD... hehe :) And mp3 of "Did My Time" with better quality you can download here.
Tracklisting.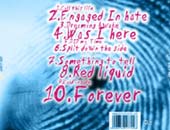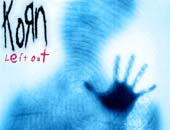 01. Call This Life
02. Engaged In Hate
03. Dreaming Awake
04. Was I Here
05. Did My Time
06. Split Down The Side
07. Something To Tell
08. Red Liquid
09. Cold Inside
10. Forever
--------



About KCUF from the official website of Cancelled (CND)
21.06.03 - Kcuf – a project drummer Sky joined:
CND drummer Sky recorded a few songs together with vocalist/ entertainer Crazy White Sean, guitarist Clyde Shorey (Artery), bassist John "Tumor" (ex-Snot, ex-Amen and now in Mortha) and guitarist/ bassist Jeff Myers (previously of Dredful). Soon after these recordings Sky went with the original Kcuf line-up to California to record 3 extra songs. This time Munky (guitarist of Korn) and Shavo (bassist of System of a Down) joined in on the project. Sid Wilson, "number 0" of Slipknot will remix the songs. The release date for the album will soon be announced.

Source: www.cancelled.nl
--------


About KCUF
The album while remaining without the name, will be recorded in studio Indigo Ranch (Korn '94, Life Is Peachy '96). Release is planned on the end of a summer. One more participant Tumor (former participant Snot) also became known.
See photo (kcuf.gif) | for fun (kcuf_bike.gif)
--------


Head & Munky - 33

19.06.03 - Today is the Birthday of Brian "Head" Welch (guitar). Now he and James "Munky" Shaffer are the same age - 33. Happy Birthday, Brian !!! He was born in 1970, June 19, in Torence city of California state.
--------


New project by Shavo Odadjian, James Shaffer and Seed Wilson
17.06.03 - James Shaffer, Seed Wilson (Slipknot) and Shavo Odadjian
(System Of A Down - bass) are busy in musical project with strange name "KCUF". It's known yet that the project is a full album and contains 15 tracks.
--------


Korn's new track for film
12.06.03 - New track "Did My Time" will be heard by them who will get the soundtrack for film about Lara Croft "Lara Croft Tomb Raider: The Cradle Of Life". Dave Mayers ( Kid Rock, Papa Roach, Jannet Jackson... ) is producer of video "Did My Time". The song will be sounded by radio in 24 June, and soundtrack "Lara Croft" will release in the middle of July. The premiere of film will be in 25 July.
--------


Korn's vocalist and his dark side
11.06.03 - Frontmen of group Korn Jonathan Davis has decided to present attention of public the personal collection of subjects of art and rare artefacts. The special exposition which have named "The End", will be shown to all spectators of festival "Ozzfest 2003". Davis any more the first year is engaged in creation of a collection, and fan groups for a long time expressed desire to familiarize with her. It is promised, that the exposition will enable to glance in private world of Dqvis and becomes a worthy sample among other collections devoted to the dark sides of life - pains, a rage, lonelyness and death. Look, for example, at one of Jonathan's exhibits. Jonathan in which work-record card there is a record about work as the assistant koroneere and the employee of a mortuary, more than once showed interest to death in all her displays. Some subjects of his collection belonged to the most known serial killers.
Except for "dark" exhibits, is and representing interest only for music fans and admirers of group - souvenirs from festival "Woodstock '99", first guitar Korn, photos of secret life, and many - many other things. The exhibition will be placed inside a small mobile folding construction. In the unwrapped condition it will occupy the area about thousand square ft. Cost of an entrance will be low that as much as possible people could allow to look to itself at the dark side of life.

Source: www.music.com.ua
--------


Happy BirthDay, James !!!
06.06.03 -





Guitarist James Christian "Munky" Shaffer is now 33 years old. Happy BirthDay, James from Armenian KornFans !
--------


About the new album
23.05.03 - Guitarists of band Korn James "Munky" Shaffer and Brian "Head" Welch have informed, that now they are borrowed with record of the sets for forthcoming new album. On words drummer David Sil'veria's collective , the new disk which meanwhile still does not have name, will be "little bit more hardly and hardly easier, than the lastLast records of group, not such melodious". For the first time to present the new songs group plans on festival "Ozzfest".
--------


Ozzy Osbourne, Queens Of The Stone Age, Korn, Judas Priest are selling their microphones
17.05.03 - Queens Of The Stone Age, Ozzy Osbourne and Korn Sell Microphones As informs Launch.com, Ozzy Osbourne, Queens of the Stone Age, Korn and Judas Priest the microphones for charitable auction have decided to offer. The profit received from sale of microphones with autographes of musicians, will be given to Fund of musical hearing aids (HAMF). The basic purpose of this organization is to reduce risk of deafness, and to promote- As well as to professionals of the musical industry, and consumers of production - to avoidance of traumas and damages of auricles. One of last education programs of fund - documentary film about harm of loud music " Listen Smart ". Such actors as Ozzy Osbourne, Wyclef Jean, Moby and Cyndi Lauper share with the spectator "sore". Auction began from Monday, May, 12. All interested persons can take part in it or to find out. It is more about this action on a site shure.com.


P.O.D.'s plans
As soon as musicians will finish work on record of a material, P.O.D. plans to go to tour on clubs of America and also to act August, 31 in Colorado together with 50 Cent, Korn and Doors 21st Century.
--------


Fieldy's Dreams
07.05.03 - Fieldy's tours:


11.05.03

Anaheim House of Blues


12.05.03

LA House of Blues


13.05.03

Bakersfield La Movida


14.05.03

Las Vegas House of Blues


15.05.03

Phoenix Marquee

--------


The new album, tour with Deftones and is a little about Limp Bizkit
06.05.03 - By time of trip on Ozzfest Korn are going to finish record new, still not named album. " At present we write David's sets to 10-?? to new songs. We hope, that by the end of June we shall cope " - speaks Jonathan in a chat on korn.com.
As is known, Korn are going release a new album independently, at their own studio. And before the beginning of record Untouchables, Korn met with several well-known producers, switching David Bottrill (Tool, Godsmack) and Michael Beinhorn (Hole, Marilyn Manson). They have employed Beinhorn's which has helped to find to an album such strike claustrophobycal. But nevertheless Jonathan counts that a natural, crude sound much more abruptly. He wants will calm fans to whom has not liked Untouchables: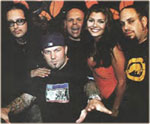 " have fun - the group harks back, to sources Korn ". Also on an album there will be a delay, the integral attribute which so did not suffice on Untouchables. After Ozzfest'a Jonathan hopes to arrange both round with Deftones, pioneers nu-metal-moves 90, which depozed itself from clan Family Values (Korn, Staind, Limp Bizkit) to go on the experimental way. By the way, new self-titled album Deftones leaves on May, 20.
While Jonathan it is interested in renewal contacts with Deftones, he so we shall tell, is in not so good relations with Limp Bizkit. All this after he has responded about new guitarist LB - Mike Smith. "yeah, it certainly not at all", he has told, speaking about former guitarist LB Wes Borland who has left group in October 2000. Also it is informed, that Jonathan has played in film "Seeing Other People" the seller of a crack.
--------


New Album
01.05.03 - In the recent chat which was taking place on korn.com, Jonathan has declared that the album will be something like returning to old, something similar on Follow the Leader. "Our last album, Untouchables, was different then we wanted to make something heavy, in low tones. - speaks Jonathan - "the New album will be very dirty and very heavy." The group has written 12 songs and prepares in studio on record of shock sets of David. Korn hope to finish an album by a summer when they will go on Ozzfest. names a pair of songs are already known: " No Jocks, " " Head, " "Booty" and " Co - ". If the album will be ready to a summer it will be 2-nd album for a year. Untouchables has left on June, 11. Except for that right after release of an album the group will release DVD where there will be also a studio work. As speaks Davis, songs will be very malicious though he all time tries to improve the relation to people and to not be in constant depression. Also it is informed that all record will pass in the strict privacy, any information leakage. " We shall not give again to steal our music". If who does not know, in Internet Untouchables has appeared 2 months prior to official release. Still Davis has told, that Fieldy works above next hip-hop an album. Will be even more abruptly.. And at last a pair of words about Head and Limp Bizkit: "It seems to me cool an invention, Head it wanted something new, it abruptly that he has decided to help LB. It is pleasant to me." - comment Davis.
--------