Poll Results

08.08.04 - New Album'2003 - Your Opinion:

36 (48.6%) I Like It
28 (37.8%) The Hardest Album
5 (6.8%) Not Bad
3 (4.1%) The Worst Work
2 (2.7%) Don't Know
--------


Projekt Revolution - Summer 2004 Tour

03.05.04 - Korn, Linkin Park, Snoop Dogg, The Used...

7/23 - Riverbend Music Center, Cincinnatti, OH
7/24 - Germain Amphitheatre, Colombus, OH
7/26 - DTE Energy Music Theatre, Clarkston, MI
7/27 - Darien Lake Performing Arts Center, Darien Center, NY
7/29 - Tweeter Center for the Performing Arts, Mansfield, MA
7/30 - PNC Bank Arts Center, Holmdel, NJ
7/31 - Meadows Music Centre, Hartford, CT
8/02 - Jones Beach Amphitheatre, Wantagh, NY
8/03 - Tweeter Center At The Waterfront, Camden, NJ
8/05 - Blossom Music Center, Cuyahoga Falls, OH
8/06 - Verizon Wireless Music Center, Noblesville, IN
8/07 - Tweeter Center, Tinley Park, IL
8/09 - Post Gazette Pavillion, Burgettstown, PA
8/10 - Nissan Pavillion @ Stone Ridge, Bristow, VA
8/11 - Verizon Wireless Amphitheater, Virginia Beach, VA
8/13 - HiFi Buys Amphitheatre, Atlanta, GA
8/14 - Verizon Wireless Amphitheatre, Charlotte, NC
8/17 - Sound Advice Ampitheater, West Palm Beach, FL
8/18 - Tampa Bay Amphitheatre, Tampa, FL
8/20 - Smirnoff Centre, Dallas, TX
8/21 - Verizon Wireless Amphitheatre, Selma, TX
8/22 - Cynthia Woods Mitchell Pavilion, Spring, TX
8/24 - Verizon Wireless Amphitheatre, Bonner Springs, KS
8/25 - UMB BAnk Pavillion, Maryland Heights, MO
8/27 - Alpine Valley Music Theatre, East Troy, WI
8/28 - Float-rite Park, Sommerset, WI
8/30 - Coors Amphitheater, Englewood, CO
8/31 - Journal Pavillion, Albuquerque, NM
9/01 - Cricket Pavillion, Phoenix, AZ
9/03 - Coors Amphitheatre, Chula Vista, CA
9/04 - Hyundai Pavillion at Glen Helen, Devore, CA
9/05 - Shoreline Amphitheatre, Mountain View, CA
--------


What's New?

19.03.04
More info has been added:
tour dates
band biography (official)
instruments
interviews (with band - 20, others about Korn - 4)
reviews
--------


Just Read

29.01.04 - UNIVERSAL CITY, California — There's Drama in Jonathan Davis' future, and he's delighted about it.

The Korn singer has signed a band called the Drama to his own group's Elementree Records and will produce Drama's debut album for release later this year.

"It's a band out of Sacramento by way of Seattle," Davis said recently. "It's really dark, dark rock. I'm excited about it. It's definitely going to make waves."

A budding video-game developer, Davis isn't exactly a veteran producer. But he took advantage of his new home studio last year to produce Korn's Take a Look in the Mirror and some tracks for Lo-Pro, the first band signed to Staind singer Aaron Lewis' 413 Records.

He also scored and produced the "Queen of the Damned" soundtrack in 2002 and hopes to take on similar projects when Korn aren't touring.

"I'd love to do whatever soundtrack or score that comes up for a movie I like," Davis said. "I love to do music and try to keep busy. It keeps me out of trouble."

Davis has a sly production technique in the works for the Drama album, which he started before leaving for Southeast Asia with Korn.

"I'm laid back," Davis said, "and can be easy to work with. I'm not going to try to tell you how to write. I'm going to try to show you how to make some good songs, but it's ultimately up to the artists. All I can do is throw my opinions in there. I'm not one of those gung-ho, got-to-be-my-way producers. At least I don't come off that way. But it ends up going my way in the end, so it's pretty funny — and good."

Korn, meanwhile, are performing in Seoul, South Korea, on Thursday before heading to Japan for two shows. Korn have been playing their heaviest material at recent shows, and Davis said the "brutal" new "Break Some Off" has been a crowd favorite.

"It's about anger, man," he said. "It's about when you get to your breaking point and break something off in someone's ass. I woke up very irritated and pissed off about things that were going on one day, and it just came out."
Source: MTV.com
--------


Hello!

27.01.04 - Site is back! Colors has been modified. New sections. Write your opinion about this site in the guestbook. Some files has been deleted by ArmFN.
18.10 = Jonathan's Birthday. Happy Birthday from armenian Korn fans! Fans wish you to compose songs like now. We know in the future you and Korn will be legend for rock lovers.
Currently Jonathan is 33 years old like Munky and Head :) ... and today is my Birthday... (happy).

Results of poll #001
(23/08/2003 - 27/01/2004):

What do you think about Did My Time song?
I Like It - 140 (72.9%)
The Best of Korn - 37 (19.3%)
Shit! - 9 (4.7%)
Bad :( - 6 (3.1%)

Grammy Nomination!
Congratulations to Korn for their Best Metal Performance Grammy Nomination for the song "Did My Time"! The Grammy Awards will be handed out on Sunday, February 8, 2004 live from the Staple Center in Los Angeles.
Source: www.korntv.com

Korn Track Featured In NFL Street game!
The track "Play Me" (Korn featuring Nas) is included in the upcoming NFL Street game by EA Sports. Click here for details! Also, click here to check out the the NFL Street trailer! You can enter to win your own copy of the game and Korn CDs here!
Source: www.korntv.com
A String Quartet Tribute To Korn
The first classical tribute to Korn released on January 6 - "The Hurt Inside: A String Quartet Tribute To Korn".

Tracklist:
1. Falling Away From Me
2. Freak On A Leash
3. Alone I Break
4. Blind
5. Here To Stay
6. Got The Life
7. A.D.I.D.A.S.
8. Thoughtless
9. Counting
10. Shoots And Ladders
11. Hurt Inside, The

Tour Dates
The group is planning to have tours in Europe after tours in S. Korea, Japan, China, Indonesia, Thailand, Australia ...and ...Armenia (joke).

1.29.04 Seoul, South Korea - Olympic Gymnasium
1.31.04 Osaka, Japan - Sonicmania Festival
2.01.04 Tokyo, Japan - Sonicmania Festival
2.03.04 Hong Kong, China - Convention & Exhibition Center
2.05.04 Jakarta, Indonesia - PRJ Jakarta Exhibition Centre
2.07.04 Bangkok, Thailand - Impact Arena
2.09.04 Perth, Austrailia - Robinson Pavilion
2.12.04 Brisbane, Austrailia - Brisbane Entertainment Centre
2.14.04 Sydney, Austrailia - Sydney SuperDome
2.16.04 Melbourne, Austrailia - Rod Laver Arena
6.04.04 Nürnberg, Germany - Rock Am Ring Festival
6.05.04 Nürburgring, Germany - Rock Im Park Festival
6.11.04 Vienna, Austria - Aerodrome Festival
6.12.04 Bologna, Italy - Flippaut Festival
6.14.04 Paris, France - Omnisport Palast
6.21.04 Amsterdam, Netherlands - Amsterdam Arena
6.24.04 Hamburg, Germany - Stadtpark
6.25.04 Berlin, Germany - Columbiahalle
6.28.03 Helsinki, Finland - Hartwall Arena
6.30.04 Stockholm, Sweden - Hovet Arena
7.01.04 Roskilde, Denmark - Roskilde Festival
7.04.04 Belfort, France - Eurockeenes
--------


Tours - 2004

07.01.04 - Korn will begin tours of this year in Japan festiivals:
31 Jan/2004 Osaka (Japan)
02 Feb/2004 Tokyo (Japan)
The group will continue concerts in Australian tours with bands Static-X, Fear Factory:
12 Feb/2004 Brisbane (Australia)
14 Feb/2004 Sydney (Australia)
16 Feb/2004 Melbourne (Australia)
--------


Take A Look In The Mirror '2003

03.01.04 - Tracklist, lyrics, cover, video & mp3: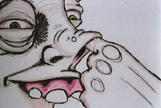 1. Right Now (3:10)
2. Break some Off (2:35)
3. Counting On Me (4:49)
4. Here It Comes Again (3:34)
5. Deep Inside (2:46)
6. Did My Time (4:04)
7. Everything I've Known (3:35)
8. Play Me [with Nas] (3:26)
9. Alive (4:30)
10. Let's Do This Now (3:20)
11. I'm Done (3:23)
12. Ya'll Want A Single (3:18)
13. When Will This End (3:39)
14. One (Hidden Track)

Download the lyrics of the album here. Also available Did My Time mp3.
Korn recorded a song with rap artist Nas ("Play Me"). "Right Now" has a video that features "Lloyd" by Spike and Mike Animation. Watch it (www.korntv.com):
RealVideo: all speeds
WindowsMedia: 56k | 100k | 300k
QuickTime: all speeds
...or download: www.urbanchaosvideos.com/getfile.php?id=300
--------


Jingle Balls...

01.01.04 - :::!Happy!:::
The new entirely self-produced KoRn record, Take a Look in the Mirror, has arrived in stores everywhere! The new CD contains 13 new KoRn tracks including "Right Now," "Ya'll Want a Single," and "Did My Time." It also comes with an expanded CD booklet with archival photos and liner notes from the band. ALSO AVAILABLE is the limited edition digipak version of Take a Look in the Mirror which contains a bonus DVD featuring 30 minutes of content including:
- KoRn Kut Up (video mix of all KoRn's videos)
- "Right Now (Mirror Mix)" video (directed by Nathan Cox, an underground video you won't see on MTV or anywhere else except on this DVD)
- Untouchables Tour 2002 (Behind the Scenes on tour and "Here To Stay" live).
Write your opinion about the album in the GuestBook.
--------