Download "Perfect Circle's Weak and Powerless" song from the new "Thirteenth Step" album.
---
Perfect Circle "Thirteenth Step" album cover
03 Aug, 2003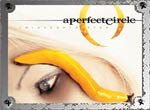 click to enlarge the image
24 July, 2003
A short clip of A Perfect Circle's new single "Weak And Powerless" has made its way online and can be heard over at
www.aperfectcircle.org
. The song is the first single from the bands upcoming new effort "Thirteenth Step", which will be released through Virgin on September 16th.
10 July, 2003
According to MTV, former Smashing Pumpkins guitarist James Iha has now officially joined A Perfect Circle, though he did not contribute any material to the bands upcoming new album "Thirteenth Step". Iha is thought to replace Danny Lohner, who is said to have recently exited the group after being brought in to replace original guitarist Troy Van Leeuwen. "Thirteenth Step" is slated for a September 16th release date through Virgin.
News from www.theprp.com
Perfect Circle new album
08 July, 2003
A Perfect Circle are said to have set "Thirteenth Step" as the title to their upcoming new album, which is due out through Virgin on September 16th. The tentative track listing for the effort is as follows:
01 - "The Package"
02 - "Weak and Powerless"
03 - "The Noose"
04 - "Blue"
05 - "Vanishing"
06 - "A Stranger"
07 - "The Outsider"
08 - "Crimes"
09 - "The Nurse Who Loved Me"
10 - "Pet"
11 - "Lullaby"
12 - "Gravity"
In other news, the group have announced a headlining club tour, dates include:
July 26th Denver, CO - Ogden Theater
July 28th Dallas, TX - Grenada Theater
July 30th Atlanta, GA - Roxy Theater
August 01st Norfolk, VA - The Norva
August 02nd Washington, DC - 9:30 Club
August 03rd Boston, MA - Berklee Academy Of Music
August 05th New York, NY - Irving Plaza
August 06th Philadelphia, PA - Theater of Living Arts
August 08th Cleveland, OH - Odeon
August 09th Detroit, MI - St. Andrew's Hall
August 10th Chicago, IL - Cabaret Metro
August 11th Minneapolis, MN - Pantages
News from www.wickedland.com
.