The Monastery and Castle of Akhtala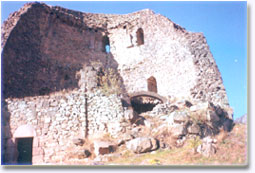 The monastery of Akhtala belongs to the great number of Armenian monuments and its architectural style and carving art is of great importance. Astvatsatsin Meygaman church of Akhtala was built by Ivane Atabekyan in 12-13th centuries and was dominated by Georgians.The castle surrounding the monastery was built by Kurikyan Bagratouni in 10th century. From the north the castle is fastened by high forts which are built from basalt. The castle has a three-arched portal. The castle comprises the monastery of Akhtala which consists of three churches, a belfry, a hall and stone-made dwellings.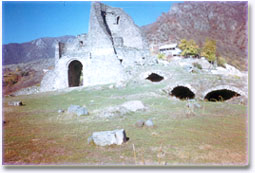 The monastery is very unique in its construction. It is mainly made from local basalt, and inside is covered with frescoes showing from scenes the Old and New Testiments.The monastery walls are covered with the pictures of the saints. The frescoes are living witness of eventful history and they consist of two layers, the upper layer was re-painted in the 8th century. Among the saints on the wall one can see the picture of Grigor the Illuminator on the eastern side of the church, who brought the "Word of God" and enlightend the Armenian nation towards Christianity. Georgian and Greek monuscripts indicate, that the carvings were made by the Armenian artists, who brought the Greek architectural style to Armenia. The dome of the monastery was ruined in the 18th century.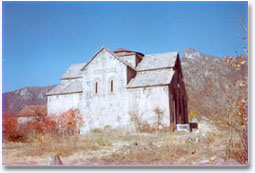 It was reconstructed by the Protection Committee of the Republic of Armenia in 1938. The 18th century monastery of Akhtala become a Greek church and in the 19th century virgin unity was established here and its ruins still remain. Nina Chaykova K.(1872-1972) and Elizabeth Tanashuk K.(1890-1970), who were Russian servants of God, are buried in the yard of the monastery. In the 19th century, Akhtala and its castle were devastated and plundered during the races of foreign invaders.In the town of Akhtala are also the monastry of Sourb (St.) Erordutyun and Arakelots (meaning Apostolic) Gevork church. French discoverer J. De Morgan excavated the environs of Akhtala in 1887, and as a result found 210 tombs (sepulchers) where he found iron and bronze weapons which date back to the 8th-6th centuries B.C.. Today the monastery and the fortress is deserted and very rarely this wonderful site is visited.Protection of this cultural heritage will enable people to travel to the past for a moment and admire the charm of the old world and blending of architectural styles.