KORN's "best of" album, "Greatest Hits, Vol. 1" (Immortal/Epic), featuring highlights from the first 10 years of the band's recording career, has been certified platinum by the RIAA (Recording Industry Association of America) for shipments in excess of one million copies.

In addition to KORN's biggest songs, "Greatest Hits" also includes two covers — a remake of CAMEO's "Word Up" and a medley of PINK FLOYD's "Another Brick In The Wall, Parts 1, 2, & 3".
KORN frontman Jonathan Davis has hit back at departed guitarist Brian "Head" Welch over his assertions that the only thing the members of the band care about is money.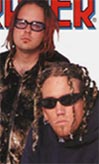 "All they care about is money? What the fuck?! I don't understand what he's on about," Davis tells the Swedish magazine Close-Up. "All HE cared about was money and all he does is still care about the money. He's got his solo career, he's going and doing all this, but oh, it's not for the money. Christians are the biggest fucking con artists in the world and he's still gonna make money off that. I don't understand... The only true way he can do that is to become a fucking monk! There you go, that's a sacrifice for God. Give up everything and go, if that's what you want. It's bullshit. If he wants to go save kids in India, that's amazing. That's a noble fucking cause, that's cool. Do your thing. The only problem I do have with him is that he's got this Jesus complex. You can tell by the way he's got his fucking hair, Messiah down his neck, him with the kids in India trying to be holier than thou now, that he thinks he's Christ. It's kinda crazy, kinda cuckoo and it kinda weirds me out."
Were you surprised that he turned all religious?

"Yeah. I just said what was on my mind: 'What the fuck are you doing?' 'Dude, don't talk to me, talk to God. God is the one telling me to do this.' I'm like, 'Okay... Well, God told me you're crazy!' [laughs] You can't argue with religion, no one wins. I just let him do his thing. If that's what he wants, do it, dude. No hard feelings. If he came up to me again I'd give him a hug and say, 'How are you doing?' But it's just not possible, because every time I've tried to have conversations with him, it just goes to God. I don't wanna talk about religion, it's not my thing. He can't respect that so..."
Do you view him as a Judas?
"I guess in a way, yeah. I don't think he betrayed us... I think he was unhappy for a long time, and honestly if this has kept him alive that's a good thing."

SYOTOS back cover

More lyrics

It's Me Again
Politix
Last Legal Drug
Liar
Throw Me Away
Tearjerker
View

All songs from SYOTOS!

01. Twisted Transistor - 4:12 | 6.5MB | 217kbit | .mp3
02. Politics - 3:16 | 5.9MB | 251kbit | .mp3
03. Hypocrites - 3:49 | 6.1MB | 224kbit | .mp3
04. Souvenir - 3:49 | 6.5MB | 237kbit | .mp3
05. 10 Or A 2-Way - 4:41 | 7.4MB | 221kbit | .mp3
06. Throw Me Away - 4:41 | 7.5MB | 223kbit | .mp3
07. Love Song - 4:18 | 7.2MB | 233kbit | .mp3
08. Open Up - 6:15 | 9.2MB | 206kbit | .mp3
09. Coming Undone - 4:48 | 5.1MB | 416kbit | .mp3
10. Getting Off - 3:25 | 5.4MB | 222kbit | .mp3
11. Liar - 4:14 | 7.1MB | 233kbit | .mp3
12. For No One - 3:37 | 6.1MB | 234kbit | .mp3
13. Seen It All - 6:19 | 9.8MB | 215kbit | .mp3
14. Tearjerker - 5:05 | 6.7MB | 187kbit | .mp3
Thanks to www.kornweb.ru

- - - - -
Korn are set to unleash their new album "See You On The Other Side" on 5 December through Virgin Records produced by Jonathan Davis along with The Matrix and Atticus Ross. This will be preceded by the single "Twisted Transistor" on 21 November.

Track list.
01. Twisted Transistor (03:08)
02. Politix (03:11)
03. Hypocrites (03:45)
04. Souvenir (03:49)
05. 2-Way (04:41)
06. Throw Me Away (04:41)
07. Love Song (04:18)
08. Open Up (06:19)
09. Coming Undone (03:19)
10. Getting Off (03:25)
11. Liar (04:14)
12. For No One (03:37)
13. Seen it All (06:19)
14. Tearjearker (5:05)

Bonus.
15. It's Me Again
16. Eaten Up Inside Me
17. Last Legal Drug (Le Petit Mort)
18. Twisted Transistor [Dante Ross Mix]
19. Twisted Transistor [Dummies Club Mix]
20. Twisted Transistor [Video - Live From Moscow]
21. Hypocrites [Video - Live From Moscow]
Download mp3s, video.
Politix - 3:16 | 2.9MB | 128kbit | .mp3
Hypocrites - 3:46 | 3.4MB | 128kbit | .mp3
Throw Me Away - 4:42 | 6.4MB | 192kbit | .mp3
Liar [2] - 4:17 | 5.9MB | 192kbit | .mp3
It's Me Again [2] [3] - 3:36 | 4.1MB | 160kbit | .mp3
Eaten Up Inside - 3:18 | 7.5MB | 320kbit | .mp3
Last Legal Drug [2] [3] - 5:14 | 6.5MB | 174kbit | .mp3
Appears - 3:00 | 4.7MB | 219kbit | .mp3
Too Late I'm Dead - 3:26 | 5.6MB | 227kbit | .mp3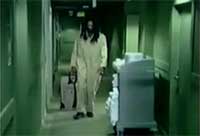 Download "Twisted Transistor" videoclip

Lyrics

View lyrics
It's Me Again
Politix
Last Legal Drug

Song reviews.
www.gotkorn.com

Like the RockMag review, this review mentions some sort of intro before "Twisted Transistor".

Overall there seem to be a few misgivings about overproduction on some of the songs, but it sounds like it's probably more experimental than Untouchables and perhaps New Wave-influenced. Also, the misgivings become less and less as they go through the album.

"Souvenir" is cited as a song that has strange electronic elements, described as "techno-metal".

"Politics" is given a somewhat similar description. There's also nothing we don't really know already about "Hypocrites."

"2-Way" is mentioned as a great showcase for Dave Silveria.

They seem to really love "Throw Me Away", calling it a dark, epic KoRn classic. With bagpipes and... Darth Vader? *shrug* Anyway, at this point they start saying more about each song.

"Open Up" apparently features the glass harmonica and some pretty big stuff -- note that it's 6 minutes long.

"Coming Undone" apparently has drums reminscent of Queen's "We Will Rock You". They claim that at the end Jon screams "I'm coming on you!", as at the end of "Sean Olson", but personally I'm guessing that he actually screams "I'm coming undone", as in the title. They don't like "Getting Off" too much -- they say it's sort of rap-metal.

"Liar" is described as power metal reminiscent of Pantera and Metallica, with crazy guitars and bagpipes at the end.

"For No One" is said to have speed-metal influence but not as much as they had hoped for.

"Seen It All" gets a rave review. It's an epic, powerful song with emotion and also a piano at the end. Apparently it reminds them of cathedrals.

"Tearjerker" also gets a rave review, described as a very intense and violent. The EMI executive at the listening party asked the audience if there was one track they wanted to hear again, and they all requested this one.

- - - - -